Remedial Health has raised $4.4 million in seed funding, a healthtech business that creates solutions to improve the effectiveness of Africa's pharmaceutical value chain.
With this most recent investment, the business intends to quicken its expansion across Nigeria and give its expanding clientele of neighborhood pharmacies, PPMVs (Proprietary Patent Medicine Vendors), and hospitals in the nation access to financing for inventory purchases.
Remedial Health: benefit of seed funding
"The funds that we have raised and the strategic support from our investors will enable us to deliver the solutions to address various challenges that have hampered these businesses' growth for many years, and make it easier to safeguard lives and livelihoods across the continent for years to come," says Samuel Okwuada, CEO and co-founder of Remedial Health.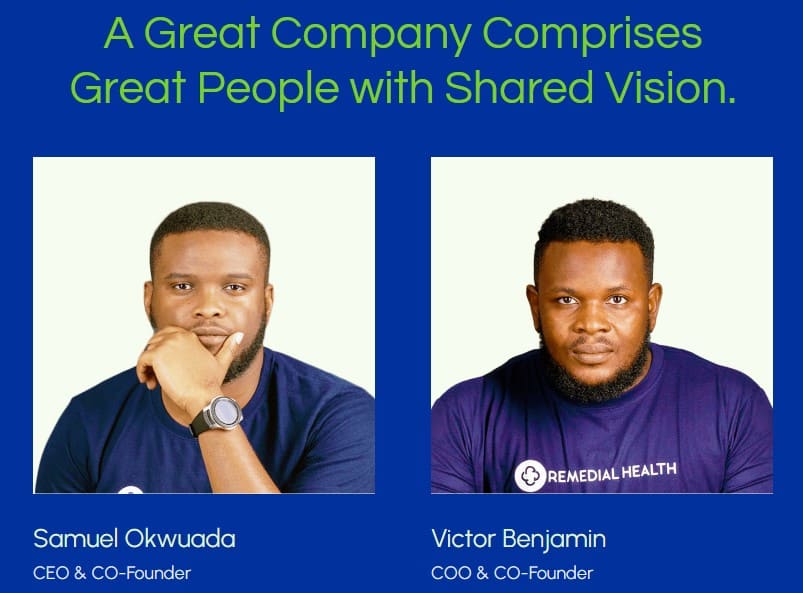 Leading MEA venture capital firm Global Ventures, which had previously invested in the round, led the seed investment round. In addition to Tencent, Y Combinator, Cathexis Ventures, LightSpeed Venture Partners Scout Fund, Ventures Platform, Alumni Ventures, and True Capital Management, notable angel investors Guillaume Luccisano and Christopher Golda also invested in the round.
For local pharmacies, PPMVs, and hospitals to access economical and reliable retail medications, Remedial Health offers a variety of solutions, including its digital procurement and PMR (patient medication records) systems. With 24-hour delivery to their practice through Remedial Health's logistics network, healthcare professionals can acquire validated drugs at prices comparable to or better than open-air medicine market prices.
In addition to procuring goods, pharmacies and PPMVs can use credit to pay for inventory purchases and give personnel loans and salary advances.
Remedial Health's sales volumes have increased by 600% since January 2022, and the business now operates in 16 of Nigeria's 36 states. This new investment will support the expansion of its services throughout the remainder of Nigeria, which will also lay the framework for an African-wide launch in 2023.
The cost of medications has significantly increased in Nigeria as a result of the effects of several worldwide events over the past three years, including the COVID-19 epidemic and growing inflation.
These price increases put more pressure on neighborhood pharmacies and Proprietary Patent Medicine Vendors (PPMVs), who serves as the majority of Nigerians' primary source of medications, to strike a balance between the need to provide life-saving medications to their communities and the need to operate their businesses successfully.
Additionally, there is the issue of an opaque supply chain, which prevents manufacturers from having timely or complete visibility into what is happening at the front lines. As a result, pharmacies and PPMVs are frequently forced to settle for less than what they want.
Neighborhood pharmacies, PPMVs, and hospitals can gain from group/bulk buying discounts, time savings, improved efficiency, access to credit to increase their earnings, as well as additional revenue from offering financial services and other primary healthcare services by utilizing Remedial Health's tech-enabled platform.
In order to make better decisions about forecasting, production, and distribution, manufacturers also benefit from an effective supply chain, a clear and quick route to market for their products, and real-time knowledge of product utilization.
According to Sacha Haider, Principal at Global Ventures, "The team at Remedial Health is proactively addressing challenges like price opacity, poor drug quality control, and a very fragmented supply chain, head on to create a tech-enabled, pharmacy-centered healthcare network that has allowed over 25% in cost reductions at the point of care."
"We are thrilled to collaborate with Sam on his aim to increase access to high-quality, reasonably-priced healthcare in Africa."
About Remedial Health
In order to increase access to reliable and inexpensive medications in Africa, Remedial Health combines the application of advances in pharmaceutical procurement, inventory finance solutions, and pharmacy operations/patient management technologies.
By providing solutions that aim to improve pharmacy operations and bridge the gap between pharmacies and wards/patients, we are dedicated to assisting pharmacies, health insurers, clinics, and other healthcare providers deliver exceptional services.