Flutterwave Accounts Frozen: Due to charges of money laundering and card fraud, a Kenyan court has blocked Ksh400.6 million ($3.3 million) in accounts related to the Nigerian payment business Flutterwave. On August 25, the court granted the Asset Recovery Agency's (ARA) request to stop Flutterwave from moving the money in three bank accounts or withdrawing it; two with UBA and one with Access Ban, as well as 19 Safaricom M-Pesa pay bill numbers.
The ARA's accusations against Flutterwave frequently mention the business's involvement in card fraud and money laundering. A similar court order to freeze Sh6.2 billion ($59.2 million) dispersed over 62 bank accounts belonging to Flutterwave and seven other firms were issued to the ARA in July.
Who are the founders of Flutterwave?
Iyinoluwa Aboyeji, Olugbenga Agboola, and Adeleke Christopher created Flutterwave in 2016, which has since raised $250 million in Series D funding and has been valued at $3 billion, making it the largest unicorn in Africa. Through a single API, the company helps small and large enterprises in Africa with their cross-border payment transactions. The API for Flutterwave is used in 34 African nations and handles 200 million transactions totaling more than $16 billion.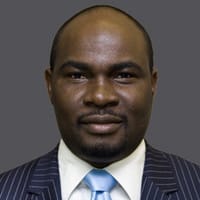 In this most recent instance, the ARA documents showed that debits totaling Sh136 million from one of Flutterwave's UBA bank accounts included chargebacks, reversals, and reimbursements that suggested they were being used for card fraud. The agency added that the Ksh231 million conversion of dollars into shillings in one account indicated "a plan of layering and intermingling."
Total Flutterwave accounts frozen, and the respective banks
The court froze $566,622 (approximately Ksh66.7 million), and Ksh110 million in UBA bank. At Access Bank, Ksh29.1 million was frozen. Further, Ksh14.5 million, Ksh68 million, and Ksh112.5 million in Safaricom M-Pesa.
Flutterwave and another unicorn in the fintech industry, Chipper Cash, were declared to be operating illegally in Kenya as remittance operators and payment services by the Central Bank of Kenya (CBK) in July. According to Flutterwave, which started operating in Kenya in 2016, it entered the market by teaming up with authorized banks and mobile network carriers and was awaiting the outcome of a licensing application it submitted in 2019. A few days later, the CBK issued an order requiring commercial banks, microfinance institutions, and mortgage finance firms to immediately terminate their affiliations with Flutterwave and Chipper Cash.
On November 20, 2022, the Nairobi-based court will hear this case once more.
Flutterwave accounts frozen and its effect on associates
In the same month that Flutterwave's money was frozen by a Kenyan court, accounts belonging to two Nigerian fintech companies, Korapay and Kandon, held Ksh45 million ($381,000) in funds were also frozen at the request of the ARA for allegedly smuggling Ksh6 billion ($51 million) into the nation. The ARA claimed that these businesses are associated with Flutterwave and are a part of a global network of fraudsters that use Kenyan banks to transfer illegal funds.
Every two months, Flutterwave has had to cope with controversies. Its CEO, Gbenga Agboola, was charged with fraud, impersonation, and insider trading in addition to recent run-ins with Kenyan law enforcement. These allegations were reported in a Medium post by a former worker named Clara Wanjiku and in an article by Rest of World, which also addressed concerns about the leadership, culture, and ethics of Flutterwave.
Frequently asked questions (FAQs) about Flutterwave
What is the purpose of Flutterwave?
Flutterwave, a technical software partner for banks and financial services companies, combines Visa Direct, Foreign Exchange Rates, and Payment Account Attributes Inquiry to make new features like digital payments convenient for customers throughout Africa and beyond.
How can Flutterwave send me my money?
Register with Flutterwave. If you're a new user, sign up for a free Flutterwave account; otherwise, log in.
Make a link for payments. Sell a good or service, start a membership.
Obtain payment. Get paid, share your payment link, and concentrate on your creations.
How does Flutterwave work for payments?
Select the Flutterwave checkout option. From the list of banks, select your bank. Select the account that will be used for the transaction (if you have more than 1 account tied to your profile) Authorize the payment using any bank-provided authentication method, and the transaction is finished.
Can I transfer funds via Flutterwave?
You may send money instantly from many different places across the world using Send. Send allows you to send money to bank accounts, mobile wallets, and places where you can pick up cash via a variety of methods.
How can you create an account on Flutterwave?
Click "Get Started" on the app.flutterwave.com home page. Complete your registration by selecting whether you want to manage your Flutterwave account as an individual, business, or nonprofit. You'll then be taken to the dashboard on the homepage, where a popup window should ask you to confirm your account.
What services is Flutterwave able to provide?
Flutterwave is an integrated payment and transaction processing company that offers technological integration, advisory goods and services, transaction processing, and payment infrastructure, and has created and runs an online store.